School Council
Meet our School Council Representatives 2023-24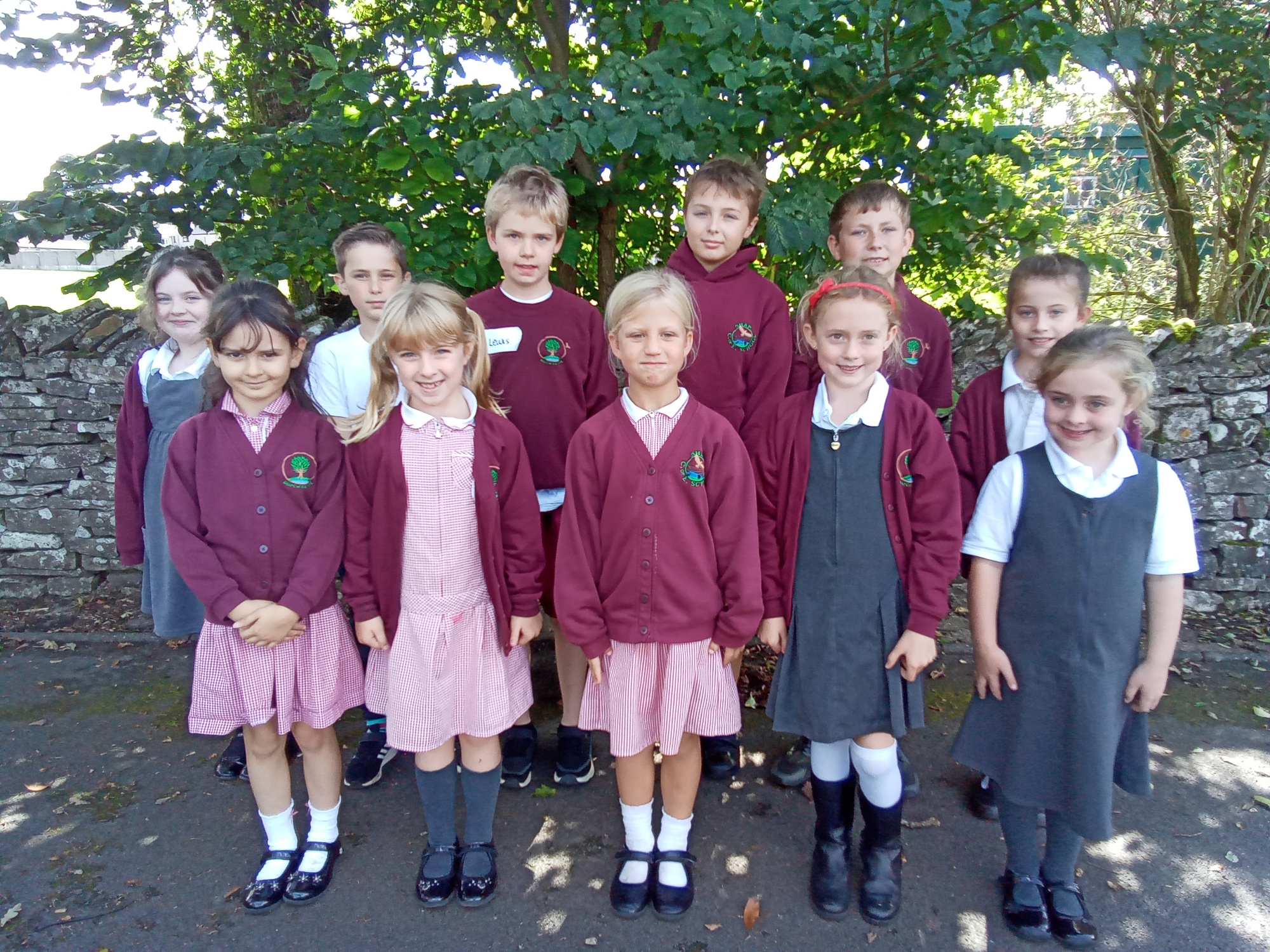 As part of our 'Vision and Values' week when we returned in September, children were asked to prepare an election speech on why they through they would be an asset to the School Council and a few ideas on what they would like to do to improve our school if they were a successful candidate. On the Friday, the children presented their speeches to their class members, after which, everyone in the class voted for who they thought would be a proactive member.
These are the children that were successful and now represent our whole school as the School Council. We met for the first time on Wednesday 13th September and each and everyone was already excited and had a lot of ideas to share. During the meeting, we assigned jobs to some of the members. Please welcome our committee:
Chairs - Damon and Ted
Secretaries - Thomasina and Molly
Treasures - Tego and Lewis
After each meeting, we will upload the minutes to the file, please have a read to see what the children have discussed and decided.
Meet our School Council Representatives 2022-23
On the return to school in September, all children were told about the School Council. The role of the School Councilors was explained and children thought about what qualities a School Council member would need. Children then had a week to go away and prepare their election speech ready for the hustings the following week.
Children delivered their speech to the children and staff in their classes. Children were then asked to vote for the two children that they believed would be the best members of the council.
We would like to present our new council members.
They are all extremely enthusiastic and busy organising charity events and thinking about what their focus of the year will be.
Comic Relief
What a wonderful 'Red Nose Day' our School Council organised!
Everyone came to school dressed in 'Silly Socks and / or Silly Hair' in exchange for a contribution to Comic Relief, this raised an amazing £90.20!
We also ran a cake sale, and the contributions were incredible! The children treated themselves to a cake at snack time, and the rest were sold after school for a weekend treat! The cake sale raised a further £50.23, and there are more pennies to come in and add to the total next week!
So far we have a grand total of £140.43... a huge well done to our School Council for coordinating, and thank you of course to our families for supporting the event!
Comic Relief Competition
Announcing our winners from the Design a Red Nose Competition!
Catbells Class:
1st = Tommy
2nd = Penny
3rd = Bethany and Chloe
Kidsty Pike Class:
1st = Harry H
2nd = Alicia
3rd = Aleah
Blencathra Class:
1st = Sonny
2nd = Ava
3rd = Sophie
Helvellyn Class:
1st = Harrison
2nd = Maddison
3rd = Thomas
This was a creative competition. Children had to create their own red nose (it could be a painting, drawing, model, or it could even be edible). There were Comic Relief prizes in each class including notebooks and water bottles!
The entries were amazing, and our student teacher Mr Heap had a difficult job choosing the winners!
Children In Need
School Council were very proactive and imaginative, in thinking about what they could do to raise awareness of and money for the charity Children In Need. In exchange for £1, children came to school dressed in yellow or spots, just like Pudsey.
The children designed and made new bandanas for Pudsey. Everyone had great fun attempting the spotty challenge, outside on the running track, this was expertly designed and set up by some of our older School Council members.
Along with having fun and raising money, the children learned all about BBC Children In Need's mission "to help ensure every child in the UK is safe, happy, secure and has the opportunities they need to reach their potential."
We were very proud of our children, to be able to organise and run a day, to do our bit to help Children In Need.
Litter Picking
We have been wanting to care for and nurture our school environment as we are proud of our school and want the grounds to be a safe and tidy place for us as well as animals and insects. We find a lot of litter can often be found on our school field and playground and we would like to do something to improve this. We knew Westmorland Services so we wrote to then to see if they could offer us a discount on the litter pickers they sold. We were so happy with the outcome, as they didn't sell us them at a reduced rate, they donated them to us, which was extremely kind and generous and shows what a brilliant and supportive business we have in our school community. We did have a test run with them today and were amazed at how much litter there was. We are now looking to create a timetable for each class to go out litter picking each week so we can ensure we are protecting us and the wildlife within our school grounds. Watch this space for more photos. And a massive thank you again to Emma at Westmorland Services.
Pass Down Week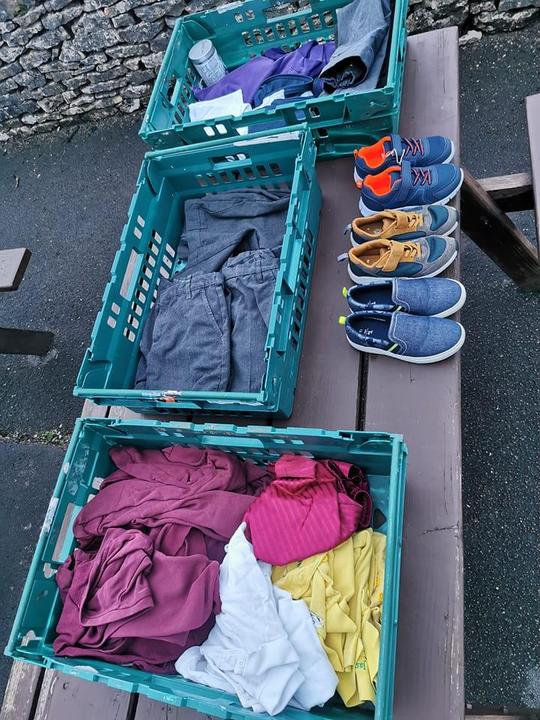 We have held another successful Pass Down Week. One of our ideas is to reduce, reuse and recycle, we feel organising the Pass Down Weeks will help this. It is a brilliant opportunity for people to donate any uniform including PE kits, trainers, school shoes and coats that they have grown out of. We then put all the donations outside school for a week so parents can come along and make a donation to take any uniform they need for their children. Every time we host these, we have a large selection of clothing and shoes donated and a lot of families make use of the idea by coming along and buying new clothing. We are going to use the money raised to put back into school to look at our recycling and how we can improve this by possibly buying recycle bins for all classroom. After the success of this one, we are going to look at hosting another either just before or just after Easter so we will hopefully get donations of shorts and summer dresses.
Biking and Scooting Day
Thankfully, the weather wasn't too bad this week so our biking and scootering for each class could go ahead. Again, lots of children brought in their bikes or scooters along with their helmets and had fun riding around the running track. We were disappointed with the donations and amount raised this time and we are wondering about doing it again next half term which is a shame as we do all really enjoy it.
The idea, is to promote healthy mindsets as the children have to bike or scoot to school and then be active with their class while going around the running track. They also need to know about safety, as they are not allowed to take part if they don't have a helmet. We have are looking to use the money raised, to plan a health and sports week in the summer term. The idea is for different people in the local community to come in and work with us by either teaching us about health or by teaching us new sporting/active skills.
BBC Children In Need
For BBC Children In Need, we organised a number of things to help us raise money for a brilliant charity. These included coming to school dressed in yellow and/or spots, a colouring/creative activity to design Pudsey a new bandana and a guess how many spots (sweets) are in the jar. We raised a massive total of £167.40 for BBC Children In Need.
We also spent time researching what the charity BBC Children in Need do and what the money raised is used for. We then delivered a Worship Time to the whole school to tell them this as we believe it is important children know what the charity is and how it helps children.
BBC Children in Need - Competition Winners
Biking and Scootering Days
This week, we have held the first of our half termly biking and scootering events.
After speaking with the other children in our classes, we all decided we really enjoyed the biking and scootering day, we had last year as part of Comic Relief. Because of this, we decided to organise one of these weeks every half term for all the children in the school to enjoy and take part in.
During the last week of every half term, each class is allocated a day where the children in that class can bring in their bikes and scooters in order to ride around the playground or the running track during their playtimes or PE lessons. Each child has to wear a helmet to promote safety and must ride their bikes and scooters carefully, they need to ensure they can stop if they need to and avoid others.
We are hoping to organise a health and sport week during the Summer Term so we are asking children to donate £1 to take part in the biking or scootering which we will then use to pay for coaches or other sporting events during that week.
Finally, we were able to hold our first full School Council meeting outside. The members were very excited to meet and had lots of brilliant ideas. Please see the attached minutes to see what we discussed, they were all very enthusiastic and had lots of good ideas.
Comic Relief
Comic Relief
School Council wanted all the children to be active during the day. They gave each class a list of four activities that they could take part in. The children in each class voted for which of the four activities they would prefer to do. In all classes the move like a Superhero got the most votes and children brought in their chosen mode of Superhero transport to whizz around the playground and running track on.
Children had a brilliant time burning off their Superhero energy, rescuing each other on their Superhero missions and building Superhero friendships by chatting to each other as they went.
Uniform Pass Down Day
School Council decided to hold another Uniform Pass Down Day, this was decided as the last one was very welcomed by parents as a way of passing on uniform that was outgrown and also allowing parents to purchase new uniform for a small donation.
Children In Need
Children in Need was a successful day, with a craft competition, dressing in pyjamas, joining Joe Wicks exercises, Children in Need maths and running a mile each.
The Ankoma Dreamers - PJ Day
In September 2020, we are very happy to be welcoming some of the Ankoma Dreamers. These are a group of 7 children who live in the Ankoma village, in Ghana that have been selected to travel to the United Kingdom. Their dream is to build friendships, explore cultures and connect classrooms in the UK with theirs in Ghana.
Over the year, we will be organising various fund raising events. The first was a Pyjama Day, where all children and staff could come to school in their pyjamas in exchange for a small donation.
We raised £75.60 for the charity. Thank you very much for all of your donations.
This Children in Need we had a colourful and healthy theme.
Throughout the week, the whole school began the day by following Joe Wicks and his 8 minute workout. There was lots of exercise, fast heart beats, red faces and smiles by the end of each session.
10th October 2019 - Hello Yellow
Out first fundraising event was a success. We raised £83 for the charity 'Young Minds'.
We also helped raise awareness of the charity and the importance of talking about our feelings and what we can do to make people happy.
We organised a joke competition, where the winners were organised homemade certificates and also a guess how many yellow sweets were in the jar.
Thank you to everyone for taking part and coming to school dressed in yellow.
Planting with Shap Gardeners
Vera from Shap Gardeners worked with our school council to plant bulbs that will flower in the spring and make Shap village bloom!
Meeting Minutes - Wednesday 25th September 2019
Meet the 2018-19 School Council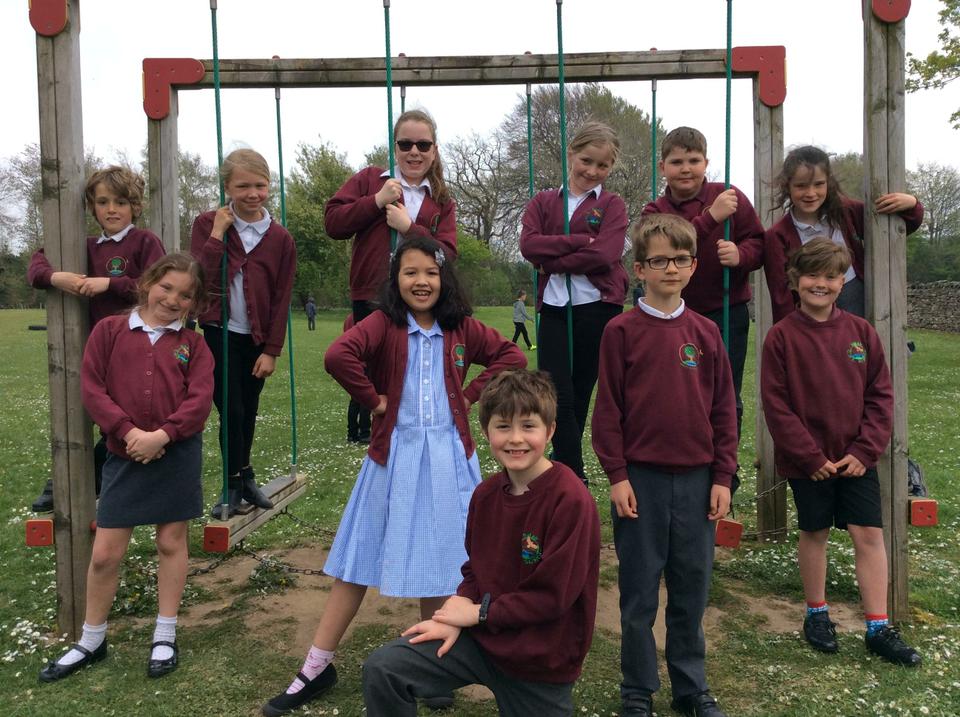 Here at Shap C of E Primary School we have a very good group of School Council members. Our Council is made up of children from Year 2 to Year 6. At the start of the year anyone who would like to be on the Council had to explain to our classes why we are worthy to be in School Council and what qualities we would bring to it. Following the presentations, everyone is the class would anonymously vote for who they would like to be their class School Council representative.
Some of our roles within the School Council are: to organise fundraising events, make suggestions on how we can improve our school and this year we are beginning to focus on how we in school can help to care for the environment.
We are always pleased to share our ideas at meetings and are honoured to be in School Council.
During our meetings we always discuss ideas that other children in the school have put in our suggestion box. After the meetings we feed back to our classes what we have discussed.
Amelia and Brooke
5th June - Meeting Minutes
May 2019 - Helping our planet
March 2019 - Comic Relief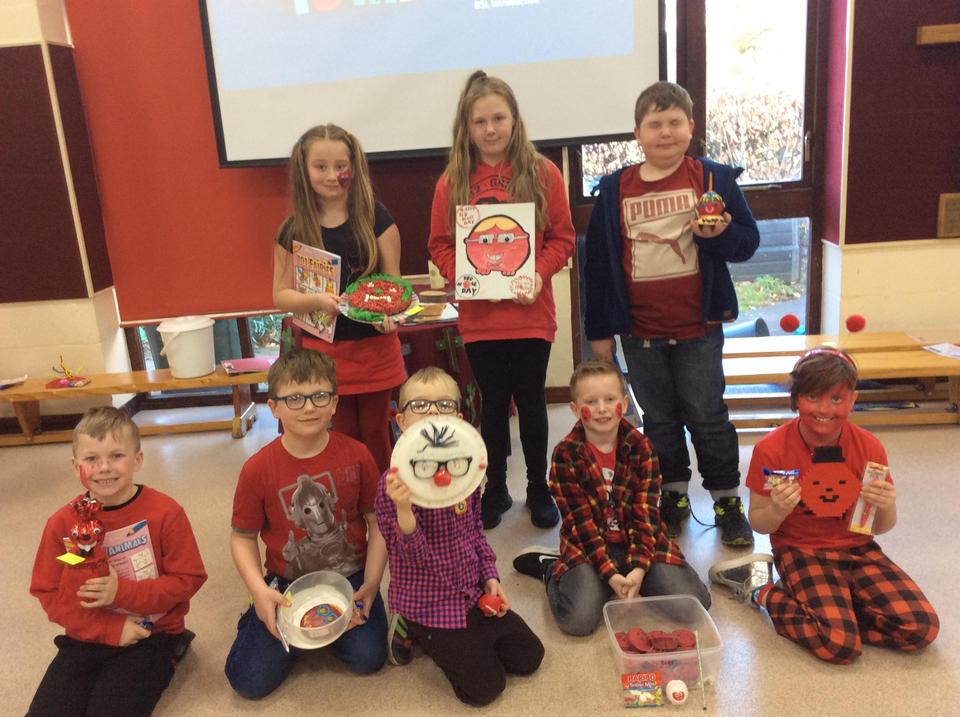 Children came to school dressed in red.
We held a competition to design your own 'Red Nose!' We had some fantastic entries.
These are the prize winners and their designs. Well done.
November 2019 - Children in Need fundraiser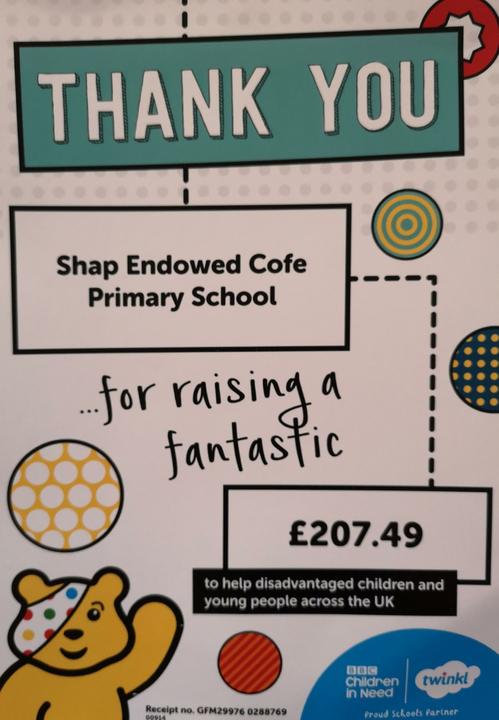 This year for Children in Need we asked children to come to school dressed in spots, in return for a £1. We had some very spotty children in school that day.
We arrange a few games that children could have a go at these included: guess the name of the teddy and guess how many spots (sweets) are in the jar.
Also we had a spot cake sale during playtime where children donated cakes and then we were allowed to buy and enjoy one! Yum yum.
Coco
December 2018 - Christmas Jumper Day
To raise money for Save the Children, we decided to ask everyone to join us for our Christmas dinner in Christmas jumper. Everyone came dressed for the occasion and helped raise money for the excellent charity.