Jolly Jubilee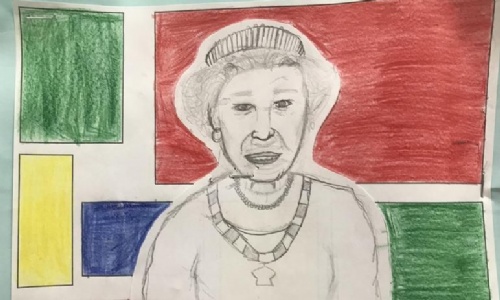 What a jolly jubilee we have had today!
The children looked wonderful dressed in red, white and blue, wearing their crowns or carrying their sceptres!
We had a wonderful picnic lunch, and the sun shone for us! Thank you to Teresa, Catherine, Emma and Lisa for preparing and managing our picnic lunch!
The country dancing was heart-warming, it was lovely watching our children dance together to The Circassian Circle, and Pat-a-cake-Polka!
The children all brought home an oak tree! The acorns were donated to us from Lowther Castle! Sheets were laid down underneath the oak trees in the parkland to the north of Lowther Castle last autumn to collect the acorns as they fell, Lowther were working with Forestart on a project to regenerate the landscape with indigenous trees seeds. The acorns have been vernalised (prepared for planting), and we planted them in our homemade plantpots made from newspaper!
All of the children took part in a 'Queen's Portrait Competition', the standard of work was excellent! This made it difficult for our Governor Pauline to judge a winner, but after a lot of deliberation, the winners, receiving a jubilee medal were:
Christopher in Catbells,
Thomasina in Kidsty Pike,
Leah in Blencathra and
Maddie in Helvellyn!